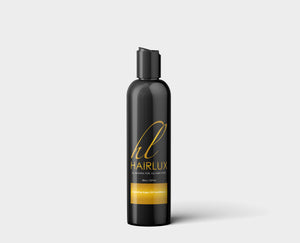 Hydrating Argan Oil Conditioner
What would shampoo be without its perfect counterpart, conditioner? Let your thick, curly and/or frizzy hair receive the endless benefits of Argan Oil while conditioning your hair. Argan Oil, which is extracted from the kernels of the argan tree, native to Morocco, is rich in many beneficial nutrients including fatty acids, antioxidants and vitamin E. Argan oil can make hair silky and shiny while taming frizz and split ends. Can help heal damage caused by chemical treatments. Makes hair more amazingly manageable while adding softness, smoothness and a weightless shine. (This conditioner does not contain an added fragrance, however it is not entirely odorless.)

To Use: After shampooing with HairLux Argan Oil Shampoo, squeeze out excess water and apply from mid-length to ends, working your way up to the roots. Leave on for 2- 5 minutes then rinse well. For a deep conditioner apply a plastic cap over hair and let sit under a dryer or in steam from shower for 10 minutes before rinsing well.

Warning: Use product only as directed. For external use only. Avoid contact with eyes. In case of contact, rinse immediately with water.

Ingredients: Organic Argan Oil, Aloe barbadensis (Organic Aloe) Juice, Behentrimonium Methosulfate, Panthenol DL, Sliperry Elm, Caprylic/Capric Triglyceride, Jojoba Seed Oil, Sunflower Seed Oil, Olive Oil, Ricebran Oil (Vitamin E rich), Kosher Vegetable Glycerin, Ethylhexylglycerin, Phenoxyethanol.
(Note: All choices of added fragrances are Nature's Oil USDA Organic essential oils.)
All oil were Certified Organic by Oregon Tilth
Our Top 6: Certified Organic Lavender Essential Oil (Bulgarian), Certified Organic Lemongrass Essential Oil (India), Certified Organic Peppermint Essential Oil (India), Certified Organic Eucalyptus (Globulus) Essential Oil, Certified Organic Tea Tree Essential Oil (AAA Australian), and Certified Organic Sweet Orange Essential Oil (Brazil).
100% pure therapeutic grade: No fillers, synthetics, additives, bases, or carriers added.
Six authentic essential oil varieties sourced from ethical producers around the world.